Cute Funny sister quotes | I love my sister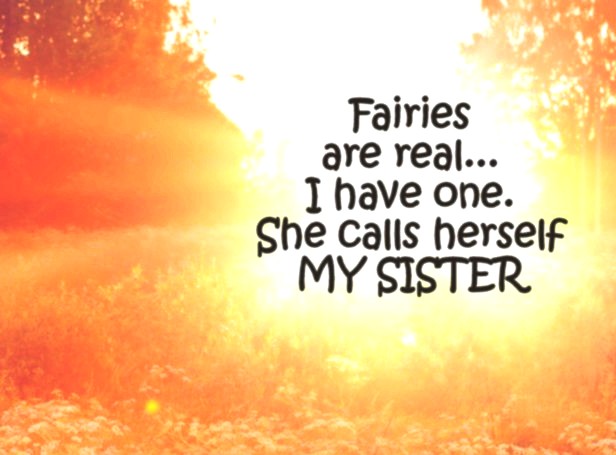 Hey! do you have a sister? if not then you are unlucky… I love my sister, I can't even imagine my life without her. She is always with me when I need her. Yeah we do fight also as everyone do with his/ her sister. Now the raksha bandhan is coming, Now we all sisters gonna have gifts yupieeee. 
Here are best collection of cute, funny Sister quotes. I hope you love your sister too. Share any of the Best quote about sister, which express how much you love her. 
"I love my sister, She is simply amazing
and I just couldn't imagine my life without her"
"The best thing about a sister is having a Best Friend."
"There is no better friend than a sister.
And there is no better sister than you."
"I smile because you're my sister.
I laugh because there's nothing you can do about it."
"You and I are sisters always remember that if you fall,
I will pick you up after I finish laughing!"
"I'm the Big Sister No question. No arguments.
We'll just do things my way! HEHEHE."
"Sisters are different flowers from the same garden."
"A sister is a gift to the heart,
a friend to the spirit.
A golden thread to the meaning of life."
"Side by side, or miles apart
we are sisters, connected by the heart."
"In the cookies of life,
sisters are the chocolate chips."
"Sometimes being a sister is even better
than being a princess."
"Having a sister is like having a best friend that you can't get rid of,
you know whatever you do, they'll still be there."
"A good friend knows all of your best stories
a sister has lived them with you."
"You keep your past by having sisters. As you get older,
they're the only ones who don't get bored if you talk about your memories." –Deborah Moggach
"Sister to sister we will always be,
a couple of nuts off the family tree."
"A sister is someone who listens when you talk,
laughs, and holds your hand when you cry."
"Our paths may change as life goes along, but the bond
between us remains ever strong. Miss You Sister."
"I was the little sister that was annoying." Heidi Klum
"Sometimes being a sister is even better than being a superhero."
"Behind every little sister there's a big sister standing behind her
holding a bat saying, You wanna say that again?"
"A sister smiles when one tells one's stories- for she
knows where the decoration has been added."
"Sisters are angels who lifts us to our feet
when our wings have trouble remembering how to fly."
"Sisters are probably the most competitive relationship
within the family, but once the sisters are grown. It becomes the strongest relationship."
"A sister is someone who knows everything about you and loves you anyway."
"We weren't sisters by birth but we knew
from the heart fate brought us together."
"My sister may not always be by my side…
but she is always in my heart."
"If you mess with the big sister there is always a younger,
crazier sister behind her… that you don't wanna mess with!"
"More than Santa Claus, your sister knows
when you've been bad and good."
"If you don't have an older or younger sister, you really missing out!
Those are bonds and love that could never be replaced."
"Your brother is your brother till he gets a wife…
your sister is your sister all your life…
Cherish her and guard her with your entire life
she looks up to you and expects you to be her guide."
I hope you like these sister quotes collection. Enjoy your life and always love your sister
Related posts:
Comments
comments