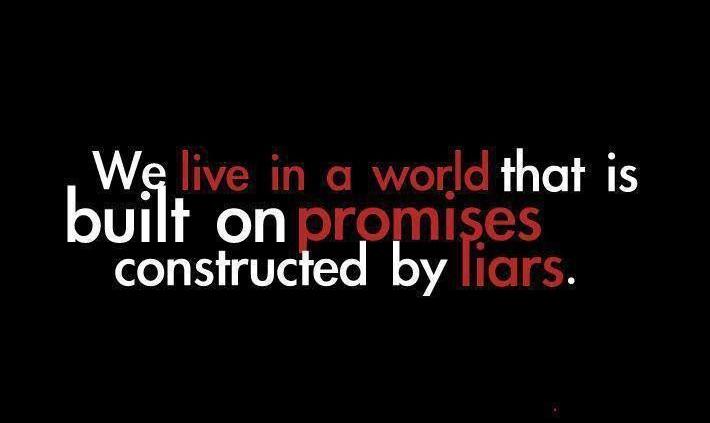 Everyone praise you if you deliver whatever you promise, everyone gonna call you man of your word. A person is only respectful if he/she gonna keep his/her promise.
I will always say don't break promises otherwise one day you gonna be alone and you want people to trust you, but the people don't gonna trust you again.
Here are some best collection of Promise quotes and sayings, I hope you gonna like it.
"May be some promises are meant to be broken.
To make us learn that we can't trust someone 100%."
"In the house of trust, you keep a promise and
you add a single brick, break a promise and lose a wall."
"There is promise in every new dawn. Promise of a new start, new chances,
new opportunities, and new hope, always remember the promise."
"Never make a promise you can't keep. You can tell a lot
about a man by the promises he keeps and breaks."
"Don't talk, just act. Don't say just show. Don't promise, just prove."
"Don't make a promise unless you can keep it,
don't say something unless you mean it,
don't act out unless it's needed."
"The promise given was a necessity of the past:
the word broken is a necessity of the present."
"Promise me you'll never forget me
because if I thought you would I'd never leave."
"You can't substitute promise after peomise with known violators of prior
promises at the expense of protecting ourselves or setting an example."
"PROMISE is a big word, if you break it, it will also break
a lot of other words as well. one example is TRUST."
"It's funny how most people become who they promised they would never be."
"People with good intentions make promises but people with good character keep them."
"Don't promise when you're happy,
do not reply when you're angry
and do not decide when you're sad."
"People ask me why it's so hard to trust people,
And I ask them why it so hard to keep promise."
"Promise me you'll survive. That you won't give up,
no matter what happens, no matter how hopeless."
"Promise is a big word it either makes something or it breaks everything."
"I hate those people who break their promises, but I hate myself more
 for even though the promise was already broken, I still expect it to be done."
"Three things you should never break: TRUST, PROMISES, and HEARTS."
"Promise yourself to be so strong that nothing can disturb your peace of mind."
"We promise according to  our hopes and perform according to our fears."
"Promise me you'll survive. That you won't give up,
no matter what happens, no matter how hopeless."
"Forgiveness is a promise. Not a feeling, when you forgive other people.
You are making a promise never to use their past sins against them."
"Promise yourself to be so strong that nothing can disturb your peace of mind."
"Promise is a big word. It either makes something or it breaks everything."
"Never make a promise- You may have to keep it."
"Promise yourself to be just as enthusiastic about
the success of others as you are about your own."
"Never promise more than you can perform."