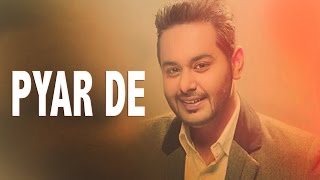 New Punjabi song Pyar de by Harpreet Grewal. Pyar de song Lyrics by Maninder Kailey. Here are the lyrics of song.
Pyar de Lyrics Harpreet Grewal
Tere Bina Sajna Ve.. Dil Nahio Lagna..
Chad De Tu nileya naina De Nal Thagna..
Kar Lai Khaya Zara Chann Da.. aasi Jind Jaan tere Utto Warde..
Holi Holi Sara Jagg Phul ja..
aaina Mainu Soniye Pyar de..    x2
Rattan Wali Need Meri Udd J..
kh Le Tu Mera Sukh Chain Ni..
Milne Di Tang Mainu Lagg J..
Duri V na hove Metho Sain Ni..
Teriyan Sochna De Vich Gumeya..
Kam Chadd Deva Sare Ghar Bar De..
Holi Holi Sarra Jag Bhulja..
Ena Mainu Soniye yar de…
Holi Holi Sarra Jag Bhulja..
Ena Mainu Soniye pyar de…
sheeshe vicho kar la Didaar main.. kudh Nal
V Main Gallan Kitiyan..
hunda Ae Suroor Fer Dugna..
Peg vich Pake Yaddan Pityan..
ishq de Podi Chad Lain De.. Paave Mirze De Wang
mainu Maar de..
Holi Holi Sarra Jag Bhulja..
Ena Mainu Soniye yar de…
Holi Holi Sarra Jag Bhulja..
Ena Mainu Soniye yar de…
Chad Devo Adiyan ji malko..
Sadde Wal kar Levo Goor Ji..
Bah Fad Meri nall Chal K..
Saddi V Bna Deo Tahour Ji..
Ban J Gulam Tere ROOp Da..
Kailey di Tu Enj matt Mar de..
Holi Holi Sarra Jag Bhulja..
Ena Mainu Soniye yar de…
Holi Holi Sarra Jag Bhulja..
Ena Mainu Soniye pyar de…    x2