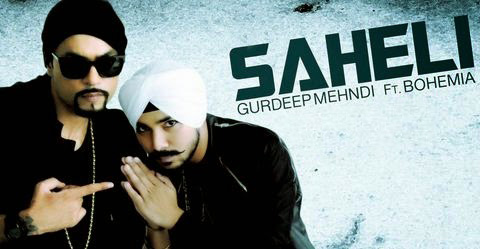 The new song Saheli by Gurdeep Mehndi feat Bohemia. Saheli song lyrics by Ikka. Here are the lyrics of song.
Saheli song Lyrics
It's your boy Bohemia
Introducing Gurdeep Mehndi
Har paase chakka kudiya da
Mundeya de full najaare
Nachdi de lakk te dull gaye
Chobbar chadde kanwaare.. (x2)
Saah hunda up and down kudi da
hunda up and down kudi da
Gayi khasma nu kha..
Main fan ho geya ni kamliye teri saheli da
Main fan ho geya ni kamliye teri saheli da
Main main main fan ho geya ni
kamliye teri saheli da
Main fan ho geya, fan ho geya…
Ohne paaya fit kara ke suit gulabi da
Naina ne ghatt karata kharcha sharabi da (x2)
Breakup ho gaye mundeya de
Haaye brakeup ho gaye mundeya de..
Par maan jawaani da
Main fan ho geya ni kamliye teri saheli da
Main fan ho geya ni kamliye teri saheli da
Main main main fan ho geya ni
kamliye teri saheli da
Bohemia Rap
Jis din se dekhe tere nain
Kho gaya mera chain
So gaya main phir chaand pe ja ke
Ho gaya main tera fan..
Soni jaise koi paheli
Kaliyo mein tu chameli
Kudiyo me sabse upar tu
Upar se teri saheli
Jab jab tere saamne rahe shy
Whatsapp pe kahe 'Hi'
DM pe msg likhe
Facebook pe kare like
Mere concerts pe kare shor
What star, once more
Par jab bhi tere saamne..
Aaye hum ko kare ignore
Sunday di hove chutti
Tenu picnic leke jaavan
Main dine karawa shoping
Tenu ratti sehar dikhawa
Tenu ratti sehar dikhawa
Tenu ratti sehar dikhawa
Sunday di hove chutti
Tenu picnic leke jaavan
Main dine karawa shoping
Tenu ratti sehar dikhawa
Na kareya kar ignore kude
Na kareya kar ignore kude
Na kareya kar ignore kude
Mere naal tu gatti pa
Main fan ho geya ni kamliye teri saheli da
Main fan ho geya ni kamliye teri saheli da
Main main main fan ho geya ni
kamliye teri saheli da